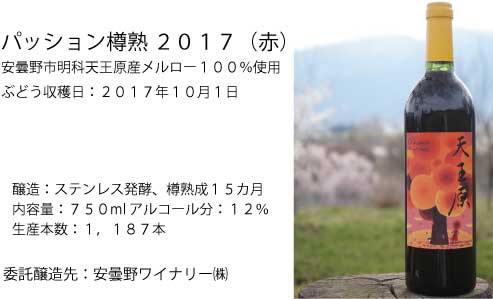 Passion Tarujyuku Tennobara 2017 (red)
100% Merlot made in Tennnobra, Akashina, Azumino-shi
Harvest : October 1, 2019
Brewing: Stainless steel fermentation
Barrel aging: 15 months
Content: 750 ml
Alcohol degree : 12%
Production unit: 1,187 bottles
Outsourced Brewery: Azumino Winnery K.K
Sales price: 3,900 yen (excluding consumption tax) plus shipping 100% wine of Tennobara Merlot that won the Bronze Prize at the 2019 Japan Wine Competition. After the aging period of 3 years, only 30 bottles will be sold this year. The year 2017 was blessed with fine weather in September, and very healthy fruits were harvested. It is the one that feels that a sense of unity has been born from the taste of the previous year.
Maruyama Liquor Store (Matsumoto City)